The International Women in Travel & Tourism Forum 2022
WELCOME BACK IN PERSON
Brought to you by Women in Travel CIC
Central Saint Giles,1-13 St Giles High St, London WC2H 8AG, 30 JUNE 2022
9:00 – 17:00 followed by a drink reception
THE EVENT IS SOLD OUT
"The work of Women in Travel is very close to my heart and aligned with our values at Intrepid, so I'm delighted that the IWTTF is returning in person this year. As travel recovers from the pandemic, it's vital that our pledges to build back better aren't forgotten. I'm looking forward to another forum packed with inspiring and important conversations."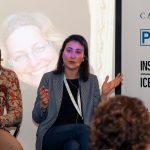 Zina Bencheikh
IWTTF 2021 Conference Chair and MD, EMEA, Intrepid Group
"IWTTF plays an important role in supporting women in the travel & tourism industry to get the global attention to their needs for economic growth and professional development."
Dr Manal Kelig
CoFounder GWE companies & Executive Director MENA region ATTA
"Women in Travel CIC, which continues to encourage, uplift, and make space for women within the travel industry, is such an inspiration and for me, it is a huge honour to be part of this event."
Lola Akinmade Åkerström
Co-founder LocalPurse, Author and Visual Storyteller
"The only way to guarantee equal opportunities is to come together and share our experiences. IWTTF offers a unique digital space where we can learn and share best practices and ideas."
Dr Mariana Aldrigui
Tourism research University of Sao Paulo, Country director (Brazil) for Global Travel and Tourism Partnership (GTTP) and Chair for the Tourism Board at Trade and Tourism Federation (FECOMERCIO/SP)
WELCOME
The International Women in Travel and Tourism Forum returns for the third time in 2022 and this year it is held in person in one of the most exciting and creative spaces in central London, Google HQ at Central St Giles!
After 2 years of pandemic and with persistent uncertainty worldwide, the Forum is an important platform to discuss the future of industry and the role that women and the broader diversity, equity and inclusion (DEI) agenda play in developing a more equitable, sustainable, and successful industry.
It is also a fantastic opportunity to reconnect, engage, network and learn from original thinkers and authentic leaders.
The Forum will feature a wide array of inspiring speakers and through a mix of panel, mentoring and curated interactions will address some critical questions, including:
Why is female leadership more needed than ever in these turbulent times?
To what extent are diversity and inclusion still an industry priority?
What are the links between diversity and sustainability?
Why is recruiting talent so hard and how can embracing DEI contribute to alleviating this challenge?
What role do senior male leaders play in fostering women's progression in industry?
What do younger generations want from their travel and tourism careers?
And many more!
Join us on 30 June to hear from inspiring speakers, to access thought leadership and to gain practical tips and a fresh perspective on industry. Meet and network with industry decision makers, leaders and professionals in an exceptionally stimulating environment!
We know that by the end of the day you will be inspired and enthused about the opportunities to make this industry better for everyone and look forward to welcoming you on the day!
VIEW THE PROGRAMME
VIEW THE SPEAKERS
Interested in sponsorship opportunities?
There are still opportunities at all 3 levels, plus ad hoc, in-kind for digital goody-bags and more.